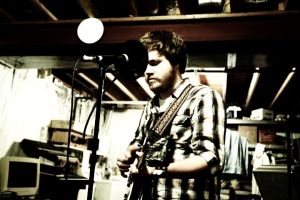 All right, all right. We celebrate the fifth episode of the For The Record podcast by bringing in one of the area's most celebrated acts, Silent Old Mtns. Those who may be familiar with either me, this newspaper or the band already know how much of a ruckus I caused a few months ago when my hyperbolic review of their record "VelvetRaccoon" angered pretty much every other musician in the state of Maryland (ha!). Naturally, within this episode the group's lead singer, Andrew Bromhal, and I talk about that fateful day in May, among many, many other topics, including what's next for the band, what Frederick needs to do to better its music scene, and, of course, what it's like to be one of the most beloved bands around.
In addition to all that, Andrew (the nicest person in the history of the world) was kind enough to offer up two live, acoustic performances of songs, one of which is a brand new track called "Milwaukee." Yep — brand new Silent Old Mts. stuff! As if that's not enough, the singer also talks about when a new record might be on its way. So much new info. So little time.
You can check out Silent Old Mtns. at various places online, including their website, www.silentoldmtns.com, their Facebook page, facebook.com/silentoldmountains or their Twitter account @SilentOldMtns. If none of that sounds good enough … well, these dudes even have a Wikipedia page, so the sources for information on the Web shall be endless. Wanna figure out how to book your own Daytrotter session? Wanna know what Andrew's favorite record label is? It's all here — the meatiest episode of this podcast yet, so what are you waiting for? Have a listen, friends!
Silent Old Mtns.
OTHER EPISODES:
Episode No. 4 – Elon Eisenberg
Episode No. 3 – Crystal Sands
Episode No. 2 – Doug Alan Wilcox
Episode No. 1 – Cassandra Mullinix