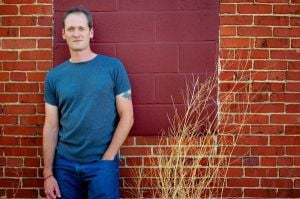 Well, there's the reggae song, the blues song, the honky-tonk song, the Cajun song and, of course, the cover song. That's it. That's the list. No track eclipses four minutes; the entire set hardly sniffs 20. Subject matter ranges from love, to partying, to day jobs. Head over to the guy's website and you'll see some dude who could double as a high school history teacher smiling back in your direction with a type of harmless innocence best seen on the faces of PBS hosts.
Yet for the amount of blandness that paragraph implies, there's something about Matthew Patrick's latest, five-song EP, "Yard Sale," that is profoundly promising. A Jack of a few trades — fully equipped with a demeanor that suggests he has little interest in ever becoming a Master of some — there is almost nothing technically wrong with the Frederick songwriter's work here. And for anybody waiting for the other shoe to drop: No, there's nary a "but" to be found.
"Yeah, but he'd be pretty great if he just focused on one genre."
False: Who says you have to be boxed into a single sound to be great? Even Bob Marley went all Bob Dylan with "Redemption Song." Not that Matthew Patrick should be held up to either of those icons, but the roots reggae of "Fly" feels surprisingly natural when paired with the blues of "Howl at the Moon."
"Yeah, but being good at multiple things can often mean that weakness creeps through in certain areas."
False: The droning of the singer's voice in "One Ride" shapes up to be an oddly flavorful companion to the twang he intones throughout "The Fool I've Got to Be." Impressively, the Cajun feel of the former allows Patrick to stretch his vocal talents enough to make the latter appear downright criminal — identity theft is a serious crime, you know.
No, but seriously: The guy wears a lot of hats and it turns out he has a perfectly shaped head. Presented with confidence and competence, the five songs here combine for a sum unexpectedly more valuable than its parts. It wouldn't work if Patrick was thoughtlessly visiting the grounds on which he hopes to walk every now and then, but with "Yard Sale," the notion of permanent residence never seems far from his core intention.
Take "Howl," which struts into a dirty blues club somewhere along the Mississippi during July's latest hours and leaves to the sound of applause from even the most cynical regular. Patrick's tasteful guitar waltzes with Brian Veditz's harp so naturally, you can practically feel the smoke from the bass player's cigarette creep into your nostrils. "The Fool I've Got to Be" plays with those ideals, inserts a train back-beat and benefits from piano work of which even Billy Powell would be proud.
"One Ride" then travels on down to New Orleans with a groove as infectious as it is essential. Adding to the Creole party is Patrick's slide guitar work that sounds as though it was plucked right from any Neville's backing band. No less authentic, "Fly" calls upon a B3 for splashes of roots reggae that shines even if it could use a little more Wailers and a little less O.A.R. from the drums. Patrick's voice, of all things, saves the tune from sinking to the bottom of the Caribbean.
And then there's "Midnight Special," covered by nearly everyone who has ever picked up an acoustic guitar in the history of forever. The singer isn't afraid to expose himself as somewhat of a shallow gospel singer here, opening with 40 seconds of nothing but his own voice. It isn't until his band kicks in with a formulaic approach to pop reggae that the version picks up steam, inching forward with an array of world music intonations. By the time the song — and the EP — winds down, it's hard not to feel fulfilled, hard not to feel entertained.
That's an impressive feat for someone who refuses to settle down with a singular approach. Playing with genres in the singer-songwriter business can be like playing with fire: expand too easily and be labeled a cheat; expand too fervently and be labeled a traitor. With "Yard Sale," Matthew Patrick proves he's neither of those things. In fact, when considering the versatility and ability that appears eager and often throughout this short set, there's probably only one word that aptly sums up the guy's ceiling: limitless.
3 stars out of 4
Colin McGuire is a writer and page designer at the News-Post as well the music reviews editor at PopMatters.com. His blog, TV Without A TV, can be found at blog.fredericknewspost.com. Want your album reviewed by the FNP? Email 72Hours@newspost.com for details.