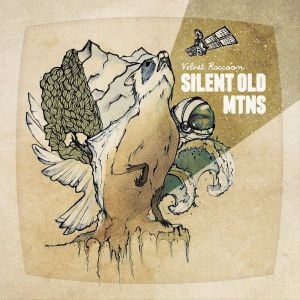 Another year comes. Another year goes. And as we've done for the past two years, it's time to wrap up the previous 12 months in music with an uber-special, never-before-seen, holy-cow-the-anticipation-is-too-much-to-bear, can't-miss countdown of the best of what the Frederick area (as well as the rest of the universe) has offered. That's right, friends: Welcome to the top songs and albums of 2013!
Notice the exclamation point.
Here's how it works. I take all the records I reviewed in 72 Hours this year, shuffle through them and pick the best 10 songs. Why not albums? Because the reviews run every two weeks, silly. That means in the calendar year, this publication sees roughly 26 records. Picking the top 10 would ensure that nearly half of them make the cut. And we wouldn't want that, now would we? Thus, picking only the songs makes more sense — it's a much larger crop.
The other stipulation? These are records I wrote about this year. That doesn't mean all of them came out this year. Most of them did, but sometimes we are late to the party and/or so backed up with CDs sent into the FNP offices that it takes us a while to get to submissions. No, we aren't going to take something from 2006, but we also aren't going to turn away something that came from, say, the latter half of 2012, either. All's fair in love and local music, friends. All's fair in love and local music.
Responses I received from readers?
"It is unquestionable that Colin McGuire has no right to belittle others like that. How does someone like Colin get a job as a critic?" online commenter ohrighton asked this year before eventually finishing with a stern, "Check your attitude."
"The first paragraph of this story was impossible to get through. Like Im.Poss.Ible," AshleyRawson416 wrote lovingly.
"You are a volunteer for the FNP right? Let's hope so," huntermh opined wishfully.
"(The band) also deserve a balanced and credible review from someone not high on MDMA," the great frederickmusician posted.
… And these were all in response to one single review! Plus, it was for a record I loved! Goodness, gracious, you guys were feisty this year. But that's OK, for I learned my lesson: Never, ever, ever, no matter what, write glowingly about another local artist or band ever again. Hate everything. Never use hyperbole. And by golly, in the name of Andrew Bromhal, do not even think about comparing local musicians with one another! Duly noted …
… And duly ignored. Because 2013 was one of the best years of music in a long, long time. So asking me to settle down and not gush over the stuff I love … well, it's kind of like asking Taylor Swift to make a true country album again: It's not going to happen. Proof of as much can be seen in the following countdown of my favorite music of the past 12 months. Here's to a hopeful 2014, a wonderful slate of sounds in 2013, and, of course, a penchant for checking attitudes at the door!
LOCAL SONGS
1. Silent Old Mtns. – That Telescope Find
The best rock album to come out of Frederick since I've been here (and that's only a little less than three years, so let's chill out before hitting the comments section this time guys!) brought about my favorite local song of 2013. If the can't-miss keyboard line doesn't suck you right in, the swath of layered "Oh-ohs" should do the trick. Lead singer Andrew Bromhal's unique vocal stylings sit tensely over a fast-moving, tom-tom heavy groove as slick as his voice is smooth. And once the short atmospheric bridge comes around, giving way to a mountain-sized refrain, the song all but falls to its knees, begging to be played in packed arenas.
However, the sign of a truly great song is when it can succeed in multiple environments and Bromhal cemented this track's value when he performed a stirring acoustic version of it during an episode of the For The Record podcast earlier this year. Things seemed to be going great for the band when we spoke, but the Mtns. ended up calling it quits in November. If nothing else, "That Telescope Find" serves as a heartbreaking reminder of what could have been. Because with Bromhal's aching voice leading the way, these guys could have ascended to any peak they chose to scale.
2. Mobtown Modern Big Band – Sacrificial Dance (The Chosen One)
Because my favorite local record needed to be represented somehow. Though really, you could pick any of the tracks off this Darryl Brenzel-led brilliant interpretation of Igor Stravinsky's "The Rite Of Spring" and not be wrong. Reworked for a big band with serious chops, this final song of the performance is the funkiest of the bunch, but that's no knock on anything that came before it. The horns stab with a bite bigger than a shark's, the crack of the snare drum is never misplaced, and the dynamics displayed between decrescendos are lessons in textbook arrangement. You can call it jazz. You can call it classical. You can call it rhythm and blues. You can call it soul. But no matter which classification you choose for a label, Stravinsky should somewhere be calling himself only one thing as a result: proud.
3. Carrie Lewis – I'm Gonna Sing
One of few bright spots an album — "Mr. Jon And Friends" — AC/DC could take off the market any day they want (hello, plagiarism!), this thing will run you about a minute and a half, and it's worth every nanosecond. Backed by only a ukulele, Lewis, presumably in the "Friends" role, is a knock-out, her sweet voice soaked in adolescence and an unlikely melancholy that takes this regular glass of water and somehow turns it into a perfectly aged wine. Heartbreaking and spare, it should soundtrack your new favorite indie darling of a movie, not to mention a few big-budget commercials, as well. Rarely does a song so small bring emotions so big, but "I'm Gonna Sing" has the ability to pull it off and then some. In the name of Kimya Dawson, someone give this woman a record deal!
4. Tom Teasley – Oresteia Furies Dance
Holy cow, this guy is doing fascinating stuff. Teasley, a percussionist by trade, takes instruments you can't pronounce (let alone spell) and turns them into a blend of world music so intricate and expansive that each listen feels like its own doctoral course in sound. On this standout track from his latest, "All The World's A Stage," the balafon runs are new-suit crisp and cat-paw quick, the djembe movements are subtly placed and the vocal percussion is some of the best stuff anyone could find this side of Ladysmith Black Mambazo. It's thick and it's hard and it's weird and it's out there. But my God, it's worth it.
5. Donnie Wood – John Deer Letter
I still can't get over this song. Kitschy to the core, and not even remotely apologetic, this local country singer hits a home run with his play on a conventional Dear John letter. "Tears stained the pages, I read John, Dear John/ I ain't the kind of woman who can stay too long," Wood sings during the chorus and you can't help but smirk along with him. Besides: The thing sounds like theme music for a Texas-themed chain-steakhouse near you. Note to kids: Always know your audience.
6. Dale and the ZDubs – Man In White
When you pull off roots reggae as well as these guys do here, you need to be recognized. A more interesting O.A.R., Dale and the ZDubs do the whole rock-reggae thing as good as anyone still wearing a 311 T-shirt could ask. Some might even argue these guys do it cleaner than their superiors, and they certainly have more accessibility than those who came before them. This track is the closest they get to a week in Jamaica and you can almost feel the sun radiate through the speakers. Smooth voice. Tight production. Authentic form. Great song.
7. Stray Birds – Dream In Blue
Boy, this thing is pretty. They've been recognized by NPR, already have a follow-up EP to their name, and have shared stages with folk heavyweights both near and far. This, the first track off their debut LP, is spare with its banjo picking and heavy fiddle presence, but the holes are filled in spades by Maya de Vitry's beautifully tasteful voice. Word has it a brand new full-length is on the way in 2014. "Dream In Blue" proves these birds will being flying high no matter when it comes.
8. Ghost Hotel – Theme From the Ghost Hotel/ Interlude
Led by Alison Crawford's innocent vocals, this standout track from the group's "Do You Feel It?" is a departure from the electronics and upbeat tempos that paint a lot of the songs appearing next to it. No matter. Crawford proves early she can carry the weight of any song thrown her way and this sweetly constructed pop ditty is all the confirmation anyone should need. I feel it. And you ought to, too.
9. Kimberly – December's Air
An offshoot of Holy MTN, this lead song off the band's four-song "Spring" EP takes you back to the 1980s quicker than any DeLorean could. Synths abound as singer Samuel Tressler IV flexes his vocal muscles in a way that would make both Roland Orzabal and Curt Smith blush. Grab that fluorescent spandex and turn up the tape player, guys. This is some great stuff.
10. Blind Man Leading – Boston Ferry
There is a lot to be said for cleanly constructed power-pop and that's what Blind Man Leading do best. On "Boston Ferry," from their Bostonia EP (they already have a follow-up out) they go mid-tempo with chorus breaks that mirror the best of the Spill Canvas. "Don't forget it," singer Dave Wentz commands in his authoritative, made-for-pop-rock tone during the start-stop hook. Hey, man: I couldn't, even if I wanted to.
NATIONAL ALBUMS
1. Chvrches – The Bones Of What You Believe
I've said it before, but I'll say it again: It's the kind of album that makes you excited about music again. There was nothing more irresistible in 2013 than "The Bones Of What You Believe," this Scottish trio's highly anticipated debut full-length set after kicking around EPs for what seemed like forever. Lucky enough to receive an advanced copy, I put it in my car at the beginning of September and it has yet to leave the CD player. Each time I think about replacing it, I find a new favorite track or discover a previously ignored lyric. The layers on this thing are infinite.
"The Mother We Share" got all the attention (as it should have), but you're cheating yourself if you stop there. "Lungs" is the purest kind of electro-pop contradiction accented by the playfulness within singer Lauren Mayberry's confrontational words. "Gun" is aggressive as bolts of synths pierce through dramatic skies, Mayberry threatening "I'll be a gun and it's you I'll come for" in her cutie-pie voice. And "Tether" is gloomy and exciting, culminating with the best electronic breakdown 2013 saw from music not classified by some form of the word "step."
It all adds up to an irresistible if not addicting collection of songs anybody with two working ears and a heartbeat can value. "I'll be a thorn in your side/ 'Til you die," the trio's leader repeats on the club-ready "We Sink." Oh, but it hurts so good.
2. Sarah Blasko – I Awake
Yes, it came out in her native Australia in 2012, but we don't live in Australia, now do we? Released stateside in January of 2013, Blasko's fourth album was a collaboration with the 52-piece New Symphony Orchestra from Bulgaria. Sound pretentious? You bet. But the result is well worth your time, an exercise in saturation that never loses its accessible touch. Don't believe me? Check out the title track, a sparklingly spooky jaunt led by a throttle of tom-tom rolls that recall much of what you might hear in a 1950s dance club.
Better yet is the stubborn "God-Fearing," a groovy shuffle through pitch-black forests soaked in question and defiance. "Illusory Light" then breaks your heart with its minimal piano and the singer sadly admitting, "I knew exactly/ I knew exactly what this would feel like" over and over until the line burns a memory into your head impossible to shake. Actually, it's sort of like Blasko herself: heavy-hearted and unforgettable. "I Awake" is both and then some.
3. Vampire Weekend – Modern Vampires of the City
Because what's a year-end list in 2013 without this record. Universally adored by pretty much everybody who's ever put finger to keyboard with intentions of opining on music, "Modern Vampires" is the New York quartet's best record to date and it's not close. Tweed aspirations are replaced by heavy realizations and quickly paced songs now sprawl out with wonder and elasticity. People seem to love the delicate "Hannah Hunt" and even more obsess with the clever whirlwind that is "Diane Young." Me? The desperate "Don't Lie" might be my favorite Ezra Koenig moment he's ever put on a record. "Old flames, they can warm you tonight," he offers at one point. Blaze on, fellas. Blaze on.
4. Eminem – The Marshall Mathers LP 2
"When they get jealous, they confuse it/ It's not hip-hop, it's pop," Marshall Mathers says mockingly during "Rap God," a head-spinning six-minute romp made explicitly to showcase precisely how versatile the rapper can be. Yeah, it might not sound as adventurous as "Yeezus," but that doesn't mean it's not better. Eminem's best set in years will be dismissed because it came out the same year Kanye decided to drop another masterpiece and that's a shame because as Jay-Z proved in 2013, it's darn near impossible to age well in hip-hop. On "MMLP2," however, Mathers appears to have figured out the solution. From the drenched-in-sweat "Bad Guy" all the way to his final angry bow, "Evil Twin," growing older has never sounded this inspired, this exciting, this … essential. Say all you want about his presumed bigotry or politically incorrect word choices, but you can't deny the raw rap talent that shows up here. He's back. And hopefully he'll stick around longer than he did the last time.
5. Kanye West – Yeezus
Oh, boy. Kanye West somehow did it again. After upping the ante with 2010's "My Beautiful Dark Twisted Fantasy," the Chicago rapper came back with a whole bunch of daredevil ideas and a Kardashian-load of anger. Much like he did with the forgotten "808s & Heartbreak," West kept production at a minimum, allowing him to make heavy thrills out of simplistic backdrops ("New Slaves," "Black Skinhead"). And Yeezus as my witness, this will be the only time in the history of popular music that somebody will be allowed to sample Nina Simone's "Strange Fruit" and get away with it.
6. Kermit Ruffins – We Partyin' Traditional Style!
This might be my favorite Kermit Ruffins album ever. No, but really: EVER. Erring mostly on the side of traditional arrangements, Ruffins has rarely sounded this well-put-together. Gone is a formulaic dependency on his signature New Orleans style and in is a more well-rounded maestro who has no trouble switching between convention and creole. Plus, the energy here is unlike anything he's been able to get out of a studio in the past. "Chinatown, My Chinatown" hasn't sounded this good since it popped up in Woody Allen's "Radio Days" and "Treme Second Line," the set's lone original, is everything you expect from a Ruffins composition: Lively, infectious and swingin.' We partyin' indeed.
7. Tegan and Sara – Heartthrob
After spending years chugging away in a seat on the indie rock train, these Canadian twins offered up some serious pop chops with a set as unpredictable as it was unforgettable. "Closer" is the song that would have been a hit for Tiffany if she didn't suck, while "Now I'm All Messed Up" is a special kind of moody genius. Oh, and "Goodbye, Goodbye" puts anything The Bangles did to shame all the while making Canada look hip again. Take that, Alanis.
8. Elvis Costello and The Roots – Wise Up Ghost
Again, I hate to say it, but at the risk of sounding overly glib … the Elvis Costello and Roots record sounds exactly like Elvis Costello and The Roots made a record. Take from that what you will. Often borrowing from the former's back catalogue, this exciting if not overly imaginative collaboration is a lesson in punk funk. "Viceroy's Row" has the most interesting drum part of the year and maybe ?uestlove's most inventive performance on wax while "Walk Us Uptown" grooves like a 1983 block party in Harlem. Now, when do we get "Watching The Detectives 2.0"?
9. Gregory Porter – Liquid Spirit
This might be higher if I had more time to sit with it, but I unfortunately came to the Gregory Porter party late. Labeled The Next Great Male Jazz Singer by pretty much everybody with a turtleneck and a trombone, Porter's latest set single-handedly brings encouragement to a jazz world so many people are ready to pronounce dead. Infused with gospel handclaps and a back-beat as ferocious as anything you'll find in the contemporary medium, the title track is three-and-a-half minutes of Blue Note hope. "Free" and "Movin'" then both pull from vintage Bill Withers soul and if jazz music ever needed anybody to lean on … .
10. Haim – Days Are Gone
Believe the hype, people. Drawing on the type of pop-funk Michael Jackson perfected before the 1990s happened, these three sisters sure do know how to throw a party. From the slimy feel that slithers through "The Wire" to the opening groove-heavy "Falling," you'd be hard pressed to find a more surprisingly refreshing debut from 2013. "They're hard to dislike," a colleague of mine wrote earlier this year while reviewing this set. He wasn't wrong.
NATIONAL SONGS
1. Daft Punk – Get Lucky
Yeah, this one was never in doubt, was it? Pharrell Williams had a monster year. Nile Rodgers came back from the dead to be cooler than he's ever been. And Daft Punk got all "real instruments" on us. This highlight off the unexpectedly great "Random Access Memories" turned its status as Song of the Summer into Song of the Year after the rest of the world pretty much gave up trying once it heard Rodgers' classic-funk guitar and Williams' milk-chocolate-smooth vocals team up in April. Disco didn't even sound this good when it was still a thing.
2. Chvrches – The Mother We Share
The best song off the best album of 2013. From singer Lauren Mayberry's piercingly innocent use of a particular four-letter word all the way to the track's pseudo-ambiguous through-line, you only need to hear it once to be hooked forever. Lonely. Distant. Angry. Happy. Liberating. Weird. Sweet. Sad. Assertive. Revealing. And catchy as hell. This song is all of those things piled onto an order of sugar complete with a side of bubblegum. Misery should never sound this bright. Yet "The Mother We Share" could light up entire countries.
3. Lorde – Royals
Leave it to a 17-year-old from New Zealand to write the year's most subversive song. Backed by a hip-hop beat that mocks the very culture she's taking aim at, "Royals" is of the times and for the times. "Every song's like gold teeth, Grey Goose, trippin' in the bathroom/ Blood stains, ball gowns, trashin' the hotel room/ We don't care/ We're driving Cadillacs in our dreams," the teen sings during its pre-chorus and you can hear the ironic apathy drip through the speakers. Any other year, the whole thing might seem too clever for its own good. 2013? Perfection.
4. Sarah Blasko – I Awake
The title track to Blasko's latest record is a moody stampede of sound that hits the ground running with a ripple of drums before a well-placed flash of horns launches it into a stratosphere all by itself. The enormous backing orchestra proves to be worth its weight in gold as the song ends up feeling like the soundtrack to the most dynamic movie in the theater, complete with loud, soft, dramatic and tender shifts. Mix in Blasko's unique croons and what you have is a single as accessible as it is affecting.
5. Trombone Shorty – Long Weekend
Eat your heart out, Bruno Mars. Shorty's "Say This To Say That" was the most complete record of his career this year, and paired with the always-great Raphael Saadiq, "Long Weekend" sounds like it should have been the B-side to the "Grenade" singer's retro-fied "Treasure." Only this is better. A lot better. Imaginative drums. 1970s funk-soul. And Shorty's signature trombone. It's a recipe for magnificence. And in this case, the ingredients prove to be juuuuusttt right.
6. Kanye West – New Slaves
The most confrontational track on a record filled with confrontation, "New Slaves" takes a genius use of stripped-down bleeps and blurps and places West's unique, raw flow right on top of them. By the time it all rises to a car-crash of a climax, you don't even have the energy to press the repeat button.
7. Gregory Porter – Liquid Spirit
Whatever you're doing right now, stop doing it. Head to a computer. Go to Youtube.com. Type in "Gregory Porter Leno." Thank me later. This thing is inescapable. The beginning gospel claps will take you to church while the ragtime piano will transport you to a saloon. Oh, and if none of that sounds like your cup of mocha, there's a killer bass line you can sink your teeth into. "Come on clap your hands now," Porter demands, and you'd be a fool not to comply.
8. Robin Thicke – Blurred Lines
Yeah, he ripped it off, but so what? You can't swing a cat in today's world of popular music and not find something at least remotely connected to something already written. Pharrell shoots and scores again with his contributions, and despite Thicke becoming the creepiest referee the world has ever seen at the VMAs, there's no denying how you felt when you first heard this absurdly catchy hook. And don't lie — you felt good.
9. Janelle Monae – Electric Lady
Oh, take us back to the deep, dark and distant 1990s when radio R&B was dominating the universe and Brandy was the hottest thing since Monica, Ms. Monae. Please, please take us! This simple yet fruitful title track to her latest excellent record makes you want to grab some cassette tapes and watch The Box for five hours. Mix in a guest spot from Bey's younger sister and don't even begin to act like this old formula doesn't all of a sudden sound fresher than whatever you were listening to before.
10. Lily Allen – Hard Out Here
If Lorde represents a younger generation's jaded attitude toward popular culture, Lily Allen is speaking for those of us who are old enough to know how to fight back. Yeah, the lyrics are biting, but the accompanying video is the true call to war, as Allen mocks everything from the art of twerking to the enigma that has become Robin Thicke. It's Euro synth-pop at its smartest and oftentimes too poignant to stomach. Picture Pink's angrier older sister who also happens to be British and you're on the right track. Rarely does bitterness appear so charming.