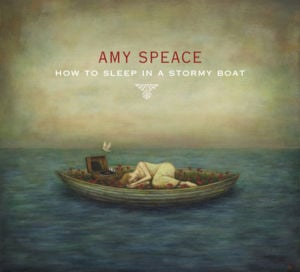 First, the obvious. Amy Speace used to be an actor. William Shakespeare used to be a playwright. The former once toured with a national company that focused on performing plays written by only the latter. Now, a little more than a decade after deciding to turn her artistic focus toward music, the one-time theater actress has released an album loosely based around the world's most celebrated playwright's words.
Got that? Good.
Now, to the not so obvious. The maturation between Amy Speace's 2010 12-song Lilith Fair-ready set, "Land Like a Bird," and 2013's most recent country/folk-influenced "How to Sleep in a Stormy Boat" might very well be the single greatest leap an indie artist takes this year between what once was and what now is. The differences between the two incarnations are subtle — yes, that Judy Collins-esque voice is still fully intact, and yes, the songwriter can still lay on the poignancy with her vivid storytelling and emotive tones — but just because those tiny changes might be hard to find doesn't mean they aren't there. Indeed, this 11-song collection is a reintroduction of the most promising kind.
Speace strips down here, relying much less on a band than she did three years ago when "Bird" allowed electricity to bolt through such songs as "Half Asleep & Wide Awake" and "Change For Me." This time around, the singer opts for little more than her acoustic guitar and tasteful accessories that often seem like visitors rather than residents. The title track, for instance, installs orchestral strings, live drums and pretty backing harmonies, yet none of the additional sounds overwhelm Speace's star as each element seems more than happy to merely gaze at the light she exudes. The same could not be said beforehand, when a track such as "Drive All Night" on her last record aimed more for atmosphere than it did singularity. Here, the singer not only seems comfortable positioning herself at center stage; she revels in it.
"In Salida," "Perfume" and "Bring Me Back My Heart" almost entirely leave everyone else behind as a solo Speace brings a blend of confidence and inspiration that she had previously been unable to convey. The most memorable of the three happens to be "Salida," if for no other reason than how she expresses the tiniest bit of anger through her vocal performance. It begins with about a minute and a half left as she sings "The knot that's always in my throat/ A country on the verge of an overthrow" as part of a rambling, rambunctious refrain that refuses to be ignored. It's a small departure from her middle-of-the-road public radio pop, and it also allows some very real emotion to bleed through the speakers, a call to arms for the revolution she's convinced will come.
None of this means that help from her band doesn't add a little more to the equation. Opener "The Fortunate Ones" is aided by an explosion of sound during its latter half that utilizes a waltz feel to the fullest degree. Maybe more notable is the neat contradiction it offers between music and words. "We're the raging pretenders/ The five-time offenders/ Hurting nobody more than ourselves," she intones, creating a very succinct ugliness that is nothing less than beautiful. "Hunter Moon" is covered in mud, a new turn for the singer that takes her close to the Land of Tom Waits (with a much more angelic voice, of course). Fortunately, the switch in direction is successful as the upbeat groove and addictive hook will stay with listeners long beyond a first listen.
Equally as memorable is "The Sea & The Shore," a John Fullbright collaboration that allows the songwriter to show off her storytelling chops. Backed by little more than acoustic guitar picking, the track is a clever metaphor for lost lovers that inches toward the line of pretension without ever crossing over it. Making it worthwhile are the two voices telling the story, each fitting like a glove over the hand that is its counterpart. The result is dazzlingly gorgeous and strikingly sad, a recipe difficult to blend without the correct ingredients. Here, Speace and Fullbright combine for a five-star meal.
Actually, speaking of food, appetite is the one thing that separates "How to Sleep in a Stormy Boat" from the rest of Amy Speace's catalog. Why? Because this record is filled with it. More than 10 years into a career as a singer-songwriter, Speace somewhat miraculously still sounds hungry, and as these 11 songs prove, starvation seems to be nowhere in sight. That, as one may imagine, isn't just a good thing — it's an imperative thing, and if nothing else, it ensures a future of promise and potential that should have every opportunity to be explored, every opportunity to succeed.
"How to Sleep in a Stormy Boat" isn't a coming out party, of course, because Amy Speace has been here for years. What it is, however, is a gala honoring the courage to move forward, a celebration of persistence, patience and practice. If this is only one in a long line of steps toward a fruitful career as a working musician, it's a pretty big one. More importantly, it's also a pretty essential one.
Besides, as Speace has now proven she knows oh, so well, it's always a bit harder to get to sleep with an empty stomach keeping you awake, anyway. No matter it be on water. No matter it be on land.
—
3 1/2 stars out of 4.
Colin McGuire is a writer and page designer at the News-Post as well the music reviews editor at PopMatters.com. His blog, TV Without A TV, can be found at blog.fredericknewspost.com. Want your album reviewed by the FNP? Email 72Hours@newspost.com for details.