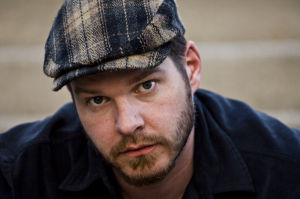 The seventh episode of the For The Record podcast set me up on my very first blind date. That's right, at the suggestion of Mr. Travis S. Pratt, I ventured over to local singer/guitarist Pete Goodwin's house to spend an afternoon talking about the Frederick music scene. Coming all the way from Burlington, Vermont, Goodwin quickly hooked up with his current band, the jammy-rocky 3:a.m., after attending various open mic nights. The rest, as they say, is history.
In addition to performing two songs, we'll also play a track off his band's 2010 effort, "On The Edge." Among the topics we discussed were his connections with the band Phish, the difference between Frederick and Burlington and, of course, if this city can cultivate its own growing music scene, moving forward. There was a lot to discuss, friends. A lot to discuss.
Goodwin's a great guy, so if you like what you hear and want to check out more from his band, venture over to their Facebook page, www.facebook.com/3amfrederick. You most certainly will not be disappointed.
OTHER EPISODES:
Episode No. 6 – The Artomatic Crew
Episode No. 5 – Silent Old Mtns.
Episode No. 4 – Elon Eisenberg
Episode No. 3 – Crystal Sands
Episode No. 2 – Doug Alan Wilcox
Episode No. 1 – Cassandra Mullinix